436-20 - Fertilizer XL
Recommended for surfaces up to 800 m2.

Telephone assistance for information before purchase.
---
We protect your data and your purchases
Fast shipping throughout Europe
Return accepted within 14 days
Description
The Fertilizer XL GARDENA is the ideal place for the convenient distribution of fertilizers and salt from the road on more extended areas.
The distribution disk spreads the material in a way perfectly smooth, and clean. The fertilizer XL can easily be operated with the function of opening / closing of the grip, where you can also adjust the quantity to distribute.
A cover panel on the distribution disk allows a precise distribution of the material and prevents it from affecting the user.
The spreader can be cleaned easily with water.
Data sheet
Container capacity (liters)

20
Features XL fertilizer spreader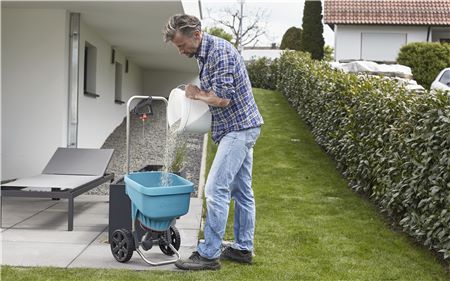 Usable all year round
The XL fertilizer spreader can be used to spread material of various sizes, such as fertilizers, seeds, granules, sand and salt. In this way it can be used all year round, both in summer and in winter.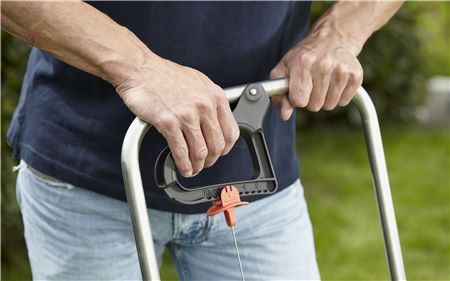 Convenient dosage
The open / close function on the handle allows for precise adjustment and metering of the material. The quantity can also be adjusted directly from the handle, without straining the back or having to bend down.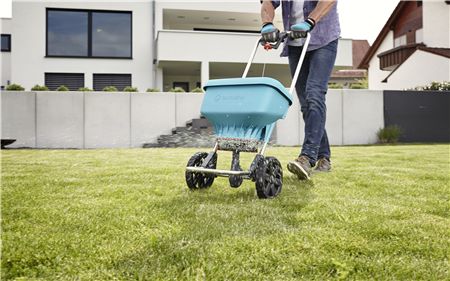 Uniform distribution
No material losses and no clogging. The spreader disc ensures optimum functionality and even distribution of the material. The diffusion width is from 1.5 to 6 meters (r = 1.5 - 3 m).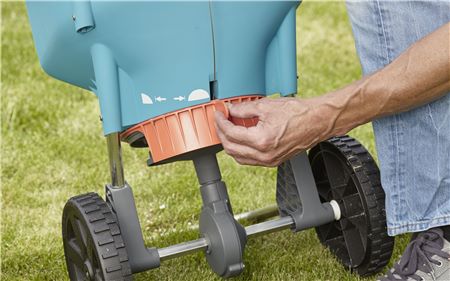 Spreads the material precisely near the edges
The deflector on the spreading disc enables precise spreading of the material. This also allows the material to spread near the edges.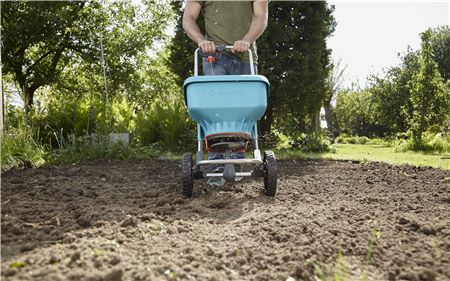 For all terrains
The large special profile wheels ensure a firm grip and optimal traction on any surface.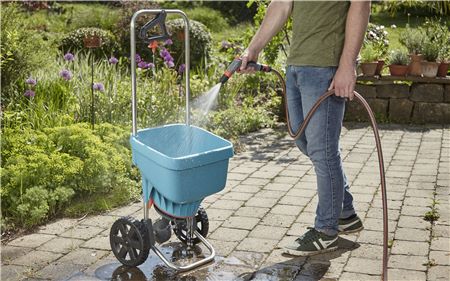 Anticorrosion and weatherproof
The spreader is made of corrosion and weather resistant material and can be easily cleaned with water.