The innovative modules Modi, 50 or 90 mm have been created for a threefold use, in fact, in addition to the solution of crawl spaces-ventilated and protection of the waterproofing of the walls against the ground, it is also proposed to be used in the construction of the Hanging Gardens.
The Roof Garden Modì is an effective tool that allows you to improve the environmental well-being in our cities as:
The benefits of climate
Promotes a useful contribution to the drainage water as it accumulates, retains, and returns in the reduced percentage of the water to the environment
Reduces the noise pollution coming from the outside
Improves the visual appearance of our city, made increasingly dark by the use of cement
In addition, with modules for Roof Garden Modì is cut down considerably the costs of maintenance because the entire cover is protected from the direct rays of the sun, from the weather and from sudden changes of temperature brought about by the changes of season, thus increasing the lifespan of the roof itself and creating an exceptional thermal protection.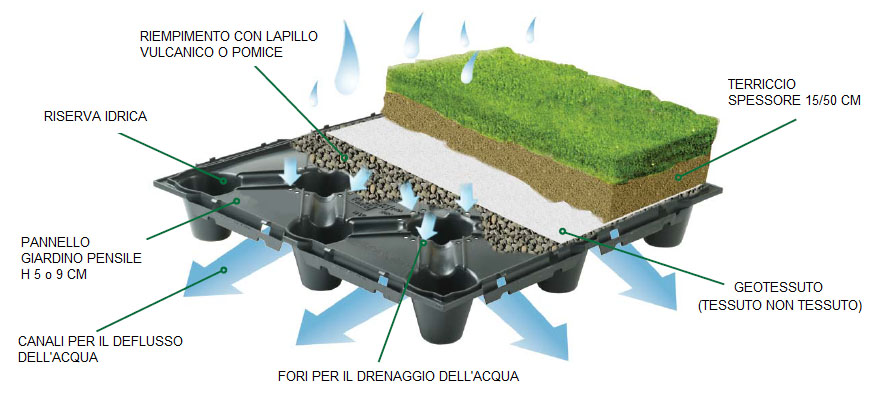 The Hanging gardens of Modì is environmentally friendly because made from recycled plastic.
He has an OUTSTANDING stability, and can be installed more quickly thanks to the simple and functional attachment system (an unskilled worker can lay over 80 sq m/h).
Guarantees very HIGH protection of waterproofing thanks to the preparation in front of the feet of modules Modi, which have a supporting surface of a smooth, elevated, circular and rounded.
Highly PRACTICAL because it allows the passage of pipes in the cavity space between the waterproofing and the ground.
Allows HIGH drainage of rainwater, thanks to the number of holes that allow for adequate evacuation of the water scroll.
The SUITABLE diameter of the holes prevents the passage of the roots under the system Modì.
Its INCREDIBLE compressive strength of more than kg/10,000 sq m allows Modi to resist dry even at heavy loads (small wheel loaders, mini excavators, etc.), acts as a load distributor and the stabilizer of the ground above.
The EFFICIENT water tanks, to allow the plants a supply always constant, allowing it to grow without problems.
The module Modi is ETERNAL, having the capacity to not expire in time if attacked by mould and bacteria, and by chemical agents such as fertilizers.
It is VERSATILE because it also allows you to work on roofs with significant inclinations of more than 15%, placing the Roof Garden Modì the Grilled Vehicular Ways in order to retain the soil.
It is EFFECTIVE thanks to the particular type of attachment perfectly follows the background with different angles, even curved.
You want to shape it EASILY with a saw or grinding disc.